I went on an adventure on the Upper West Side.
I dragged Hubster to Bra Smyth on Broadway. I got measured. Turns out I'm a 36 DDD(F)/34 DDDD(G) depending on the cut and brand. So my self-measurement was dead on!
So what did I ultimately choose…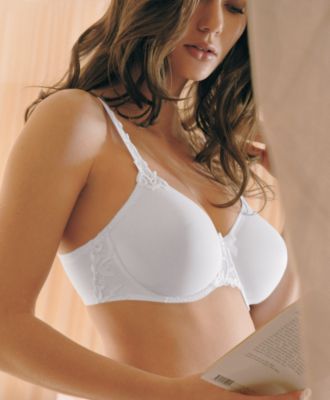 "Andora" minimizing T-shirt bra, Simone Pérèle, 34F, $77
Yes, I'm watching America's Top Model Obsessed. :hangs head:
Anyhoo, I also found other favorites but they were either too $$$ or the wrong color:
Chatelle "Hedona" Underwire Seamless Sensation, 36 F, $68.00 (great fit, but the store only had white) White bras are too much on my skin: "day-glo" in the house!

Anita "Alana" Minimizer Underwire, $86 it only comes in ivory.
What a difference a proper bra makes! I was standing at attention, LOL! My back didn't know what to make of it.