This month I am still working on my personal fashion stuff.
Additionally, I am almost done organizing my closet. I put up my sweater organizer in my closet. Mine is a chocolate brown and I got it on sale for $10 at the now defunct LNT. It's similar to this one pictured here:

hanging sweater organizer, $20, Bed Bath & Beyond
I organized my sweaters according to hue: light to darks. Each cubby holds 4 sweaters. So all of my sweaters fit into two cubbies. Then I put all of my layering shells in another cubbie. My t-shirts went into their own cubbie as well. The bottom two cubbies hold my frequently used handbags.
The only thing that is left to organize is my shoes. My hubster claims that I have a lot of shoes… So what I did was do a strict inventory of my shoe collection. I got rid of a few pairs that were in bad shape. After everything was said and done, I only have 9 pairs of shoes. I did notice that the majority of my shoes are black. I got extra organized by categorizing them according to color, type, and fit. By doing this, I figured out what I truly needed in terms of footwear.
I was relentlessly narrow in what I wanted. I am no Imelda by any stretch…but I've been playing it "too safe" with my shoes. I love black but my closet is drowning in black shoes. So I decided I need to get some more color on my feet:
a pair of riding boots
a pair of wellies
a pair of pointy toe flats
a pair of suede pumps
a pair of wedges
a pair of t-straps
a pair of ankle-strap shoes
I started out by getting brown heels:


Kenneth Cole ankle strap heels in Coffee, $10 (from eBay)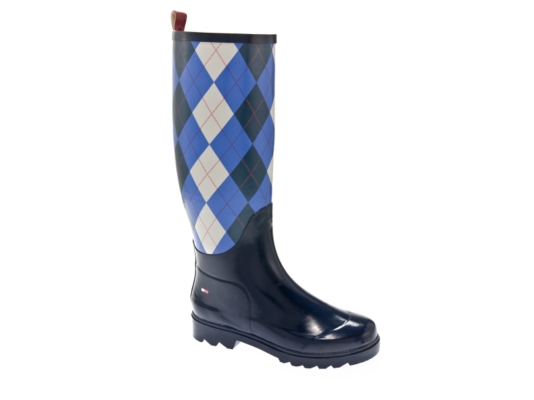 Tommy Hilfiger Argyle Wellies, $39.95
Note: I picked this particular pair because most rain boots are super baggy on my chicken legs. These were the narrowest I could find. Since I don't wear pants, I don't need to stuff the legs. It just has to be wide enough for thick tights or knee highs. For the fashionistas that wear pants; have muscular; and/or larger calves stay away from these!

Banana Republic Fuschia top, $25 (from eBay)
(it looks very subdued on me, LOL!)
Next month, I will start hunting (no pun intended) for riding boots.